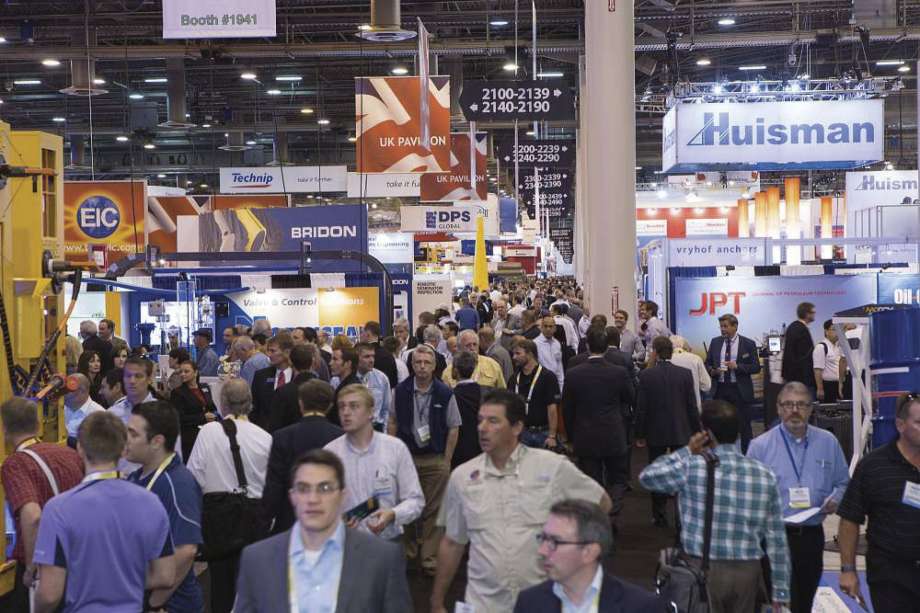 OTC 2022 Guide:
This year, OTC Houston is back on its regular schedule, taking place on the first week of May, 2-5 of May, 2022 to be more exact. I've been going to OTC Houston for over 10 years now. This is by far the largest Oil and Gas conference in the world. At its peak in 2014, it brought over 100,000 attendees from all over the world and it's easy to get lost in Houston and in the show. Even at its lowest attendance there is plenty of opportunities to network, learn about oil and gas and do business with service companies and oil and gas operators.
Since I am always getting questions from my out of town colleagues about the event and the city, I decided to compile the several emails I have written into a post to help you make the best out of your time during the conference in Houston!
Hint Hint:  bookmark this page and have it handy during OTC 2022!
Houston 101:
Just a quick note to help OTC 2022 attendees figure out where the conference takes place in relation to the airport, hotels and the several Houston areas where there are side events sponsored by service companies and several Chambers of Commerce.
Houston is the 4th largest city in the US with over 6 million people if we include the Greater Houston area. Everything is far, you will need a car, or be ready to use lots of Ubers or Lyfts to get from point A to point B.
Houston Airports: We have 2 airports IAH (George Bush Intercontinental Airport) which is in the north side and the main airport in the city, and a smaller airport called Hobby airport which is closest to the NRG Park where OTC 2022 takes place. You should budget around 1 hour by car to go from IAH to the Stadium and Uber will cost you about USD40-70. If you are riding Lyft it is usually a bit cheaper about USD40-55. If you are staying around downtown, expect to pay around USD10-15 to get to/from OTC with no traffic. Obviously, Houston is known for bad traffic especially around I-45, I-10, Medical center and around the event, so budget extra time and money if you are in traffic around rush hour.
Here is a little HOMEWORK before you get here! You should look at a map of Houston and be able to locate a few reference points:
Outer circle Beltway-8 which is a toll road – have an EZ-tag (no cash booths anymore) – if on a rental car, ask them for an EZTag.
Inner circle is 610 (also known as the 610-Loop)  – we often say some place is "inside the loop", meaning inside 610 area.
Make sure to locate highways I-45 and I-59 which go North to South forming an X and highway I-10 cuts through the city from East to West. (it actually cuts the entire USA from California to Florida!)
There is also a Toll road that goes from 610 north thru IAH airport and ends in the Woodlands called Hardy Toll Road. You will need to have an EZ Tag to use this as some exits will not take cash and you will get a ticket without an EZ tag!
Areas you need to be able to locate: NRG Park (OTC 2022 Venue), Downtown, Medical Center, Galleria. There are lots of OTC 2022 events all around these areas and that is where most of the nice Hotels will be. If you have side meetings at an oil company, you maybe be venturing out to the Energy Corridor, so you should know where City Center is (Beltway 8 and I-10) and the area around Eldridge Parkway (Highway 6) and I-10, which is just a bit further west from City Center towards Katy (on the map)
To get around the city and OTC, I personally recommend getting a car because everything is so far away. But the next best option is certainly Uber or Lyft since our public transportation is limited to some very slow buses that don't cover the entire city and a limited MetroRail (hopefully they will continue expanding). Although if you start around downtown or the medical center and plan to just go from Hotel to OTC and not venture to too many other places, the MetroRail will be a good option as it stops right by the best entrance to where OTC 2022 is.
Several hotels will have shuttles to and from OTC, which can come very handy. Check with your hotel or at OTC's official website.
You can download Lyft app from here. And Uber app from here.  Also know that there is major traffic on the main highways between the airports, I-45, I-59, I-10, 610, beltway-8 and all around medical center, so budget some time for that!
OTC 2022 Location:
When trying to locate where OTC Conference takes place, someone who is not from here may be confused by the several names you will find for NRG Park which is the official location for OTC. You may see it in maps as NRG Stadium, Astrodome, Reliant Stadium. They are all in the same place. The official name is NRG Park which is really a complex of several buildings: NRG Stadium, NRG Center, NRG Arena, NRG Astrodome and NRG Park Outdoor Spaces. You will quickly realize that you should have worn some comfy shoes to go from one place to the another. They are far and you may consider using the transfer carts (trams) to get around. Cart rides are free and will save you time and blisters.
Keep in mind that in the past there were over 2,300 exhibiting companies spread around NRG Arena , NRG Center (main pavilion with largest exhibitors) and the outdoor space. Plus the at NRG Stadium, you will have meeting rooms and some VIP lunch and cocktails receptions (usually invitation only). This year, I'm not sure which facilities there will be activated.
OTC 2022 Parking:
If you are driving, there are a few options for parking. There are "special parking passes" you can buy for $60 for all days which will get you the closest to the venues, those parking lots have a sign that says Hangtag Only. If you don't have the hangtags, none of the other parking lots are close enough to the venues – prepare to walk or look for a tram (cart) route near your parking area. Parking lots are distinguished by colors. They cost USD$15/day and yes they only accept cash! I usually try to park on the BLUE lot (entering from Kirby), if full, I go for the GREEN lot. I think the other lots are too far and the trams/shuttle don't come often enough, so if Blue or Green lots are full, I'd rather park at the parking lot for the Metro Rail just outside of 610 on Fannin and pay approx. $10 and ride the tram to the venue (it's my little secret, don't tell anyone!).
There are trains all the time and it's one stop away, very close to the entrance of the main pavilion – NRG Center. It turns out to be quite convenient. In fact, if you are looking for the best parking option without getting the hang tag for $60-70, I'd say the Metro Rail parking lot off of Fannin is the best one.
Here is a little map for the Metro Rail. Notice the RED line last stop at Fannin South, and the Astrodome Stop which is where you get off.
If you are using a Ridesharing service like Uber or Lyft, the pick up and drop off location will be the next to NRG center. Look at the map above.
OTC 2022 Hotels:
I always recommend out of town folks to stay either around the Galleria area or Downtown. Hotels around 610 are too isolated, and have no vibe. Even around the Medical Center which technically would be close to the venue, I would not recommend. Hotel Zaza is borderline between Medical Center and Montrose, you may have some good parties there that can make up for being in a residential/Rice University/Museum area. But in Downtown or Galleria you will be able to come back to your hotel and find a bar or restaurant, see locals walking around and get a good sense for the city. Plus lots of side events will take place in Downtown and around Galleria. If I have to recommend some hotels, I'd say in the Galleria you have Derek Hotel, Aloft and Marriott among several others. Note that Derek Hotel is inside the loop and closer to a relatively new development with cool stores and restaurants including one of my favorite steakhouses ( see my recommendations below!), but it's not on the Galleria side if you are hoping for a quick shopping spree. In Downtown, you can't go wrong with the Hyatt Regency Houston, Marriott Marquis or The Whitehall Houston.
Here are the hotels recommended by Offshore Technology Conference for OTC 2022
Ok so you got your bearings, you know how to get to OTC and you know where to stay, what's next? Let's dive into the event itself, shall we?
OTC 2022 Houston insider:
This is such a gigantic show that you've got to have a purpose before arriving at the venue. If you are mixing technical sessions, visiting specific exhibitors and just walking around, It's highly recommended that you download the OTC 2022 App or check the exhibitor map on OTC 2022 Website to plan your stops AHEAD of time! Once you get your badge, right before entering through the doors you can't miss the OTC Guidebook and tons of magazines, newspapers and other show goodies you will want to get! As soon as you get into the tradeshow area, find a bag for all promo stuff you will collect and a lanyard (you don't want to lose your badge!)
Needless to say, no matter what, bring plenty of business cards and be ready to network! There used to be more Oil and Gas Operators in the past, but today most exhibitors will be service companies of all shapes and sizes with their individual booths or within country delegations. There are still a few operators such as Aramco, SINOPEC and China National Oil Company. Other operators are involved in the Presentations, Technical sessions and side events.
For me, the most fun days are Monday and Tuesday when exhibitors are happy to chat and give energetic presentations (be ready to learn a bunch!). Wednesday is good, and then Thursday hmmm, not so great unless you are trying to sell to the exhibitors. Thursday you must come in the morning, after 12p it's pretty dead and at 2pm the show is over.
Assuming that you will find your way to your main scheduled events (presentations and technical sessions) in the app or the map links above, when you are ready to walk around and do some networking, remember that the main pavilion is the NRG Center and where I'd recommend you go first.  It's always impressive to see the live size equipment demonstrations, and the sophisticated presentations from the big guys. I usually make a point to check out Technip-FMC and Baker who always have awesome presentations, Parker will have a Nitrogen Coffee and Emerson usually has great interactive experiences. Around Kongsberg and the German Pavilion areas there are always good music and beer towards the late afternoon, probably the best networking area.
Tip: if there are specific equipment, service or topics of interest, go to the OTC 2022 website exhibitor search tool here , find and contact the exhibitors ahead of time, try to schedule a meeting! I've successfully one this many times.
Make sure to grab the show daily which will summarize what happened the day before. And it doesn't stop when the show closes for the day, there are tons of events put together by the service companies, consulates and chamber of commerce.
Some side events that happen each year include Chamber of Commerce breakfasts, Cocktail parties, crawfish boil etc.
For those broadcasting your experience on social media the hashtags used this year are #OTCHouston #OTC2022
Houston Restaurants:
Now if you have some time to explore the city and try some of the amazing restaurants here,  or if you want to entertain clients and partners, let me tell you a few of my favorite places:
Meat: Steak48, Fogo de Chao, Chama Gaucha, Perrys Steakhouse, Vic & Anthony's Steakhouse
Thai: Thai Gourmet ( the one and only worth going, it's so good! Possible wait)
BBQ: Goode Company, Truth BBQ (although they often run out of meat and close), Pit Room, Rudy's BBQ
Tex-Mex: Cyclone Anayas, Torchy's Tacos, El Tiempo, Pappasitos (Houston has amazing Tex Mex food, you must try it!)
Mediterranean:Phoenician, La Fendee, Fadis
Seafood: Pappadeux, McCormick & Schmick's
Asian: Uchi, Aquarium, PF Changs
American: Cheesecake Factory, Ruggles Black, Bella Green, Hungry's
Italian: Brios, North Italia, Maggianos, Sorrento, Vinoteca Pascol
Pizza: Colinas, Star Pizza, Bollo, Solario
Sweets: Crave Cupcake, Chocolate Factory
Random cool spots: Market Hall Finn Hall (several options in Downtown), Karbach Brewing co. , Boomtown coffee shop, Blacksmith Cafe, Present Company Bar.
Then if you want to score a deal, several restaurants trying to attract OTC 2022 attendees, offer special deals when you show your OTC 2022 Badge: Check out the list of OTC 2022 Deals here: Special Deals for Offshore Technology Conference
Got some free time?
If you are spending the weekend and have some free time, here is a quick guide of what you can do on the weekend in Houston.
Neighborhoods worth checking out: Strolling around downtown can be cool, maybe you can rent a bike from one of the many Bike Stations throughout the city ( Prices are $3 for 30 mins or $9 membership for free 1-hour long rides) and explore all over downtown, Discovery Green Park, stop by Phoenician for a Shawarma wrap, check out Main street where the metro rail goes. Work your way west towards the Bike trail along the Bayou on Memorial or Allen Parkway ( put in your google Eleanor Tinsley Park). If you happen to stick around on Friday, during business hours, you could check out the 6 mile long network of tunnels with shoppings and eateries underneath downtown that connects over 59 city blocks. You can enter from many of the office buildings and banks. Adjacent to downtown you will find Midtown with tons of bars and restaurants. But my favorite is the next neighborhood over, Montrose – the hip, eclectic neighborhood full of history. Great restaurants, bars and coffee shops. Just north of that, you will find the Heights, which is a booming neighborhood featuring bungalow houses with tree-lined streets, and no shortage of character and an assortment of bars and restaurants, specially around Studemont and 11th, White Oak St. and 19th street.
Do you have an insider tip to share or know of any events during OTC 2022 worth checking out? Add in the comments! And when you are done with OTC 2022, come back and share your thoughts! Make sure to add OTC hashtag #OTC2022.