Oil and Gas Knowledge Marketplace
Petrolessons is on a mission to close the skills gap in the oil and gas industry. We work with professionals, operators and service companies to curate, aggregate and accelerate the distribution of oil and gas knowledge.
Oil and Gas professionals from these companies choose Petrolessons courses
GLOBAL IMPACT
Made in houston for global reach
Our Courses have been seen in +120 Countries
Our Values
Accelerate Knowledge
The faster we can transfer knowledge, the more efficient and safe oil and gas exploration will be.
Accessibility
95% of our courses are made up of video lectures available on-demand anywhere anytime.
Be Relevant
Offer content that is relevant to oil and gas professionals and the industry
Career Development
Our micro lessons and community features, support life long learning and professional growth

Win-Win-Win
Win all around – It's win for experts, win for learners and win for the industry
Innovate
Technology has changed the way we live, it's now time to change how we learn in the oil and gas industry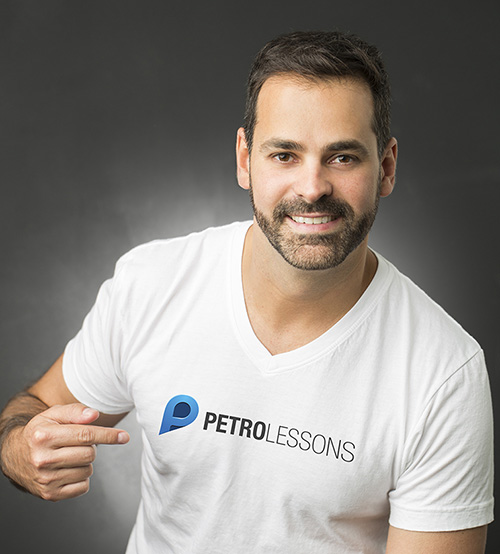 Braulio Perdigao
CEO/Founder Petrolessons.com
The idea for Petrolessons first came up around 2012 when I was working as a project manager for a mega project in the Gulf of Mexico. I was able to gain great visibility into the different sectors of the industry. It was one of the most fascinating experiences of my life and one that really helped me to gain an appreciation for the complexity, the technology and the expertise required to complete these capital intensive oil and gas projects. The industry is international, with dispersed and interdependent project teams around the globe working on the many different parts that must come together in the field. Yet, the industry operates in silos. It's no wonder that one of the hot topics often discussed within the industry is the skills gap. Being a big believer that through learning, one is able to get ahead of the curve, become more productive and stay motivated, I couldn't stand hearing about the so called "Big Crew Change" one more day without doing something about it.
One day, the light bulb went off, I envisioned a central hub where those with the knowledge and industry experience could easily share what they know and get rewarded for it, and those looking to learn, could easily tap into a library of quality, peer reviewed on-demand video material covering an array of O&G topics accessible anywhere anytime. That is when Petrolessons was born!
Since then, we've been able to interact with over 400 industry experts, publish over 100 courses and attract thousands of professionals from over 120 countries. With the launching of Petrolessons 2.0, we are making a major upgrade in the system and plan on adding many features that will make Petrolessons the portal of choice by professionals and companies to get O&G knowledge.